Santa Ynez Valley Meals on Wheels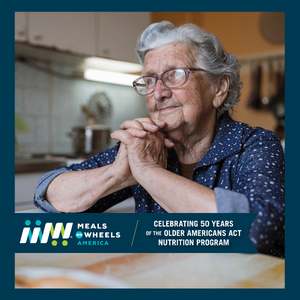 Santa Ynez Valley Community Outreach's largest program, Meals on Wheels, which is part of the national network of Meals on Wheels America, is here to lend support, and provide hot, nutritious, home-delivered meals and services to older members of our community. Our MOW's staff and volunteers currently serve almost 400 meals to seniors, including many Veterans, every weekday. We are committed to the belief that all seniors have the right to live independently with dignity and respect in their own homes for as long as safely possible. Among older adults who have difficulties with daily activities, two out of three receive limited or no home or community-based care. Half of seniors living alone lack the financial resources to pay for basic needs. It is our mission to provide nutritious meals and daily safety checks for our homebound seniors, thereby we help to reduce the risks associated with loneliness, depression, and falls. While hunger and isolation can affect anyone with limited mobility and declining health, financial strain makes them much worse. SYVCO is committed to raising needed funds so that we can continue our important mission of caring for our seniors, Veterans, and at-risk communities in the Santa Ynez Valley and beyond. SYV Meals on Wheels has touched the lives of many hundreds of Santa Ynez Valley and Los Alamos residents over the years, including wonderful U.S. military Veterans; our heroes, many of whom have long been recipients of our Meals on Wheels offerings. Please help us to continue to make their lives happier, healthier and more secure.
SYVCO has recently partnered with Ridley-Tree Cancer Center to provide special meals to people undergoing chemotherapy who require a special diet. Additionally, we have just been named by the United States Department of Agriculture (USDA) as a Veterans Distribution Food Service Center-only one of two in Santa Barbara County.
Please consider making Buellton Meals on Wheels a part of your charitable giving for 2022. 100% of all funds raised at our Cars and Cowboys fundraiser will go to help us to continue our powerful and impactful service to our community's beloved seniors and Veterans. Please help us to keep our mission a vibrant one, front and center in our hearts and woven into the very fabric of our community. Together we can continue to foster a caring community where no homebound senior is left hungry or forgotten. The simple truth is YOU make a difference when you donate your time or treasure to our program.
Thanks to you, seniors have the security of knowing there will be fresh, nutritious food delivered daily, someone will be there to check on them, and they have the comfort of knowing they are no longer alone. While a simple thank you for your support doesn't seem enough, know that the work we are able to do in the community is only possible because of YOU and we could not be more grateful.
Serving the Santa Barbara County Communities of Santa Ynez, Solvang, Ballard, Buellton, Los Olivos, & Los Alamos, California.